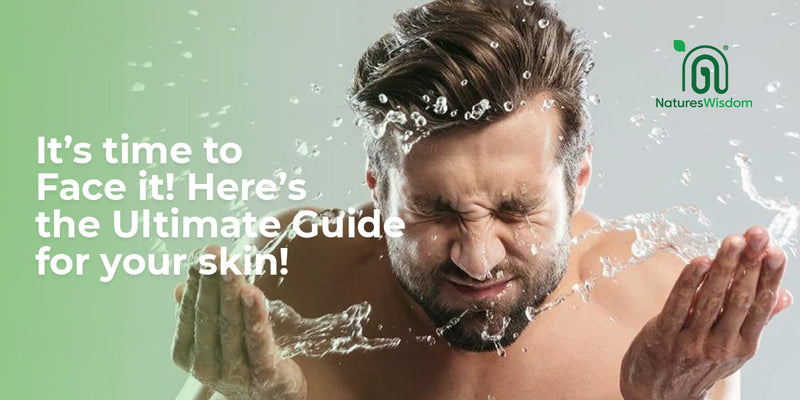 Happy, sad, angry, excited - these are just a few of the emotions we go through on a daily basis. And just like that, our skin goes on an emotional rollercoaster all the time. 
From oily to sensitive to glowing to dry, our skin feels it all. And that's why we need a mood fixer - to care for and understand our skin. The ultimate face wash that will be your skin's best friend. So push back your hair, splash some water on your face and listen up!
Before you start a friendship you need to get to know each other- likes, dislikes, what makes them happy etc. Similarly, let's first get to know your skin and identify your skin type. Here are the four key types:

Dry skin
Normal skin
Oily skin
Combination skin
Now let's dig deeper. Every skin type has its own quirks and characteristics.
Dry makes you cry!
This type of skin usually feels rough, itchy and tight, looks dull and the pores can't be seen. It's caused by a lack of moisture retention.
Normal is A-OK!
Your skin feels even and smooth and pores are barely visible. It's also neither dry nor oily.
OMG Oily!
Your skin is oily all over with visible pores and feels greasy. There are many causes of oily skin which include genetics, the climate and environment as well as skipping out on moisturiser.
Oh no, the Combo!
Your T-zone feels particularly oily while the areas around the cheeks and jawline are dry.
So the first step has been taken. You've discovered your skin's type. But there are a few other obstacles your skin needs protection against. Skin diseases are quite common and it's good to be aware of the most common ones.
Eczema
- Eczema is a common skin condition, which is characterized by dry, red and itchy skin. About 10% of adults and up to 20% of children worldwide are affected by it. In recent years, there has been a drastic rise in the numbers of children being affected by eczema, especially in developed countries. Singapore, for instance, has one of the highest rates of eczema in Asia.
If not managed properly, eczema can have a negative impact on one's quality of life.
Acne
- From mild to severe we've all experienced some form of acne. Very few are blessed with airbrushed faces! It's a basic equation: blackheads and whiteheads cause oily skin which causes bacteria and it all equals to acne. Sebum is the oil that protects the skin. Hormones cause this to increase and if it builds up, due to bad skincare (ahem!), then say hello to pimples!
In all this, there's one thing that stands out: Organic and natural personal care. So you need to take out a chunk of your time for looking after your skin. Having the right skincare regime for the right skin type sets the strong foundation. 


TO-DO SKINCARE REGIME:
Cleanse

Exfoliate

Tone or freshen 

Moisturise 

Foundation
Here's the Ultimate Face Wash Guide!
These five steps need to become a part of your everyday life. And really, it all begins with the perfect face wash. It's simple- put your best face forward to make the right impression. That's where Nature's Wisdom comes in with the perfect choice for every skin type. Come on, let's help you choose your skin's future best friend!
Ideal for combination or dry skin with slight colour imbalances, dull appearance, uneven tone, light scarring or imperfections caused by acne or other blemishes.
A gentle, natural face wash For all skin types. This soap-free daily face wash cleanses the skin of pollutants and impurities, leaving it feeling fresh and pure.
2 in 1 organic cleanser: make-up remover and face wash. For all skin types.
Formulated to balance, nourish and moisturise with anti-ageing and anti-inflammatory properties. It's suitable for areas of sensitive skin and safely removes eye make-up (including waterproof mascara).
Green People Facial Sun Cream SPF 30, 50 ml.
A natural, broad-spectrum sunscreen that shields from both UVA and UVB rays.
With a high factor and fragrance-free formula, the sun lotion harnesses antioxidant-rich plants to deliver the ultimate protection. Its blend of anti-ageing Avocado and Green Tea help protect and maintain collagen and elastin in the skin, whilst Aloe Vera and Rosemary provide soothing anti-inflammatory benefits. 
These are just some of your choices and you can play match-match on the NaturesWisdom website. Ultimately, your skin needs love, protection and gentle care and NaturesWisdom believes in that. 
Pair up your skin with the perfect face wash and watch as it glows away! After all, it's true what they say: a friend in need is a friend indeed!